Rollin' in Style: Kids' Luggage with Wheels
Are you getting ready for your next family adventure? Worried about dealing with the usual heavy bags and the hassle of traveling with the kiddos? Well, it's time to bid farewell to those days of struggle and say hello to the wonderful world of kids' luggage with wheels! Especially the ones with spinner wheels – they're like magic on the move, and they've revolutionized the game for families on the go.
Why Choose Luggage with Wheels?
So why choose luggage with wheels or those fancy spinner wheels? Well, picture your little one effortlessly gliding their luggage right beside them; no more pulling and tripping over stuff. Spinner wheels make it super easy to maneuver, giving the kids a sense of control and making them feel all grown-up during their travels.
The Perfect Gift!
Let's talk about the perfect gift for your little one or someone with a little one - meet 'My First Suitcase.' Trust us, the reviews say it all: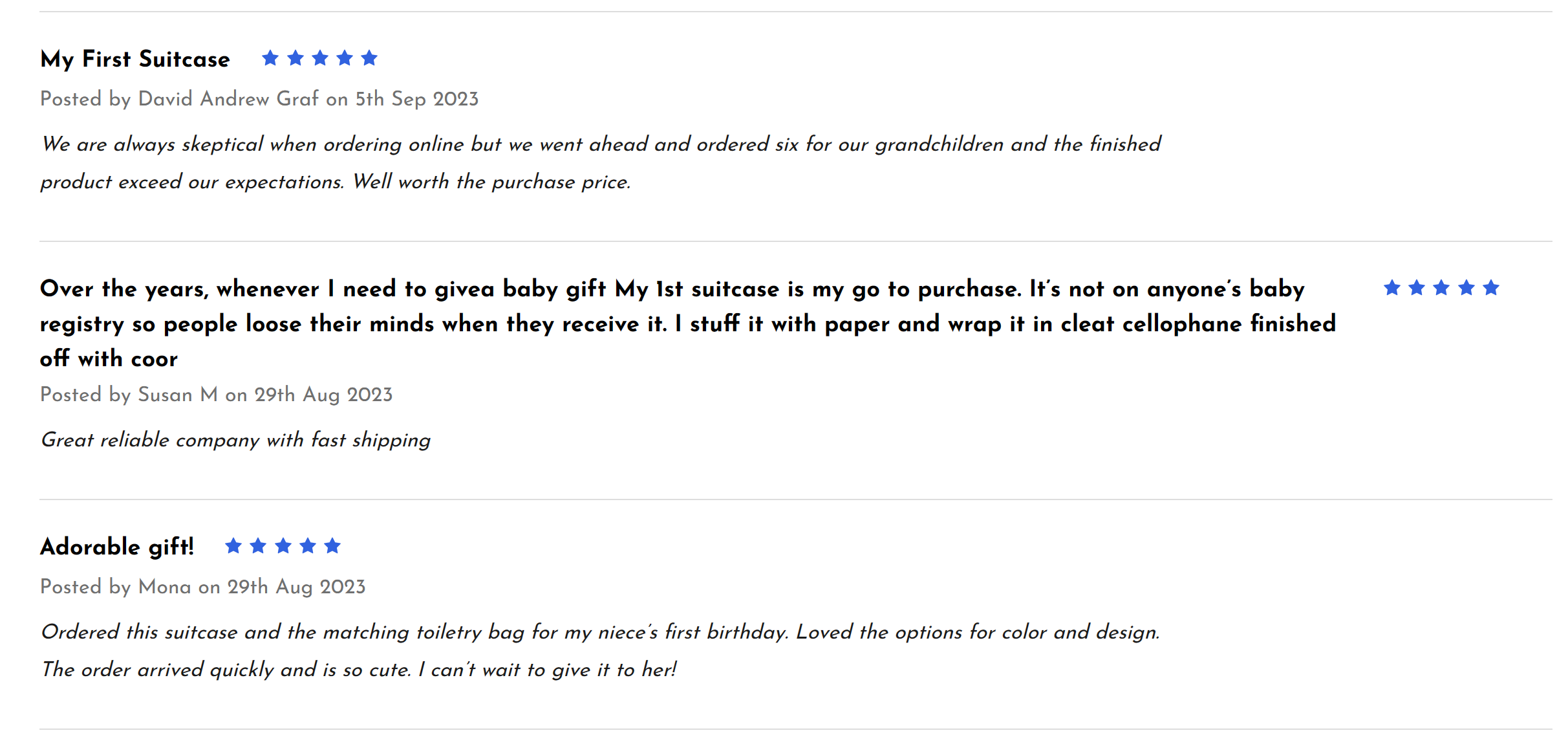 This piece of kids' luggage is a hit for overnights with Grandma, weekends away with the family, sleepovers with cousins, and just wheeling around the house!
Kids will have a blast packing 'My First Suitcase' with their favorite toys and rolling them around the house. It's just the right size and weight for the little ones to manage all by themselves.
Order Today
When it comes to making family travel a breeze and giving your child a taste of independence, luggage with wheels (or those snazzy spinner wheels) is a total game-changer. It's not just a practical choice; it's a gift that builds confidence, adds fun to the journey, and stirs up the excitement of travel for your kiddo.
So, if you're gearing up for your next family adventure, consider investing in luggage with wheels. Remember, the journey should be just as memorable as the destination!
Explore Kids Travel Zone's Personalized Rolling Luggage
Up Next: 5 Reasons Why You Should Invest in Kids' Personalized Luggage for your Little Explorer
Recent Posts
Prepare for your upcoming family adventure with our carefully curated selection of top-rated kids' t

Thanksgiving holds special in our hearts as many of us remember gathering at Grandma and Grandpa's h